Landerbolt has already built partnerships with some of the biggest names in the business, seamlessly integrating with some of the most robust tracking tools.
Following our landmark partnership with ThriveTracker, we're thrilled to announce a new partnership with AdsBridge, allowing media buyers to create high-quality landing pages with ease and push finish products straight to the AdsBridge serve.
With LanderBolt, pushing to AdsBridge without a separate landing page server is as easy as 1-2-3…we'll walk you through the steps below.
And, AdsBridge is offering all of our users a 50% lifetime discount for ANY of their packages!
To redeem yours, simply visit www.adsbridge.com, select your plan and enter the promo code LanderBolt50
Step 1: Connecting AdsBridge
First, go to the Integrations button on Landerbolt's easy navigation panel, click on Connect Tracker and select AdsBridge.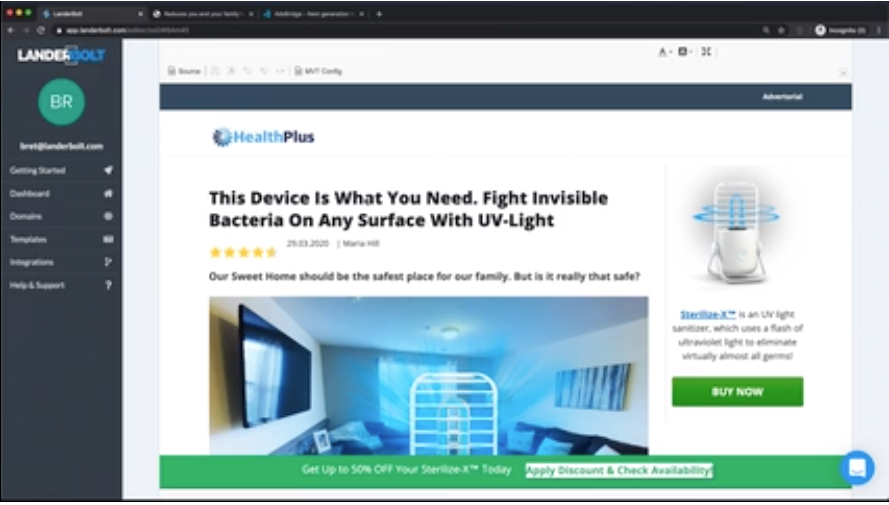 You'll see three fields to populate, including Integration Name, API Key and Client ID.
Unless you have more than one AdsBridge account, you'll only need to enter AdsBridge into the first field; you can get the API Key and Client ID directly from AdsBridge.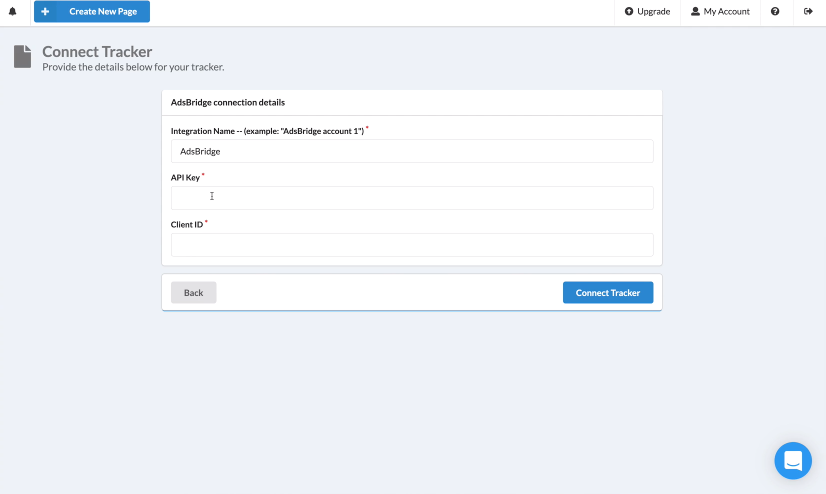 You'll find both in your AdsBridge account under "My Account".
When selecting your API Key, you'll need to reenter your AdsBridge password, copy the key to your clipboard and paste it inside Landerbolt.
The Client ID in AdsBridge is just called ID.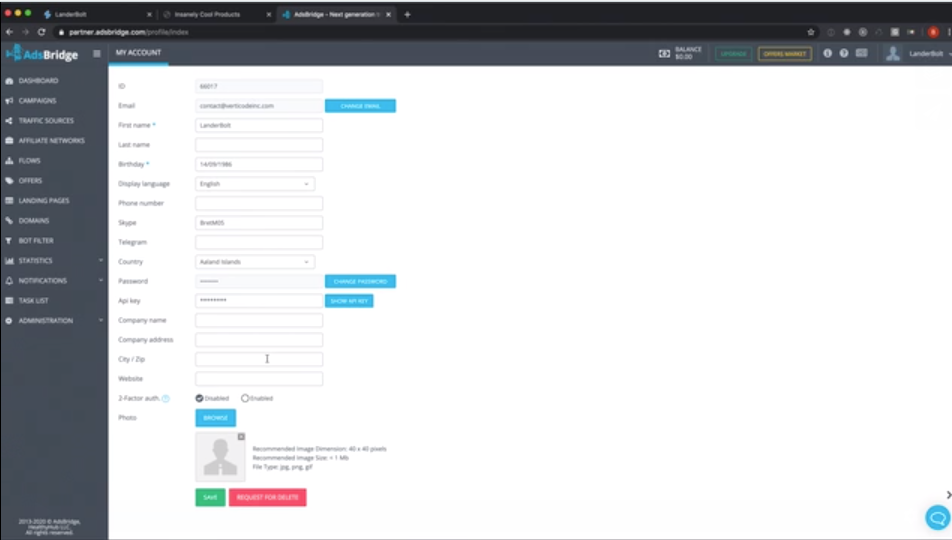 Once you've done both, simply click on Connect Tracker again and you'll see AdsBridge in your integrations; this empowers easy publishing to AdsBridge without manual entry.
Step 2: Publishing to AdsBridge
To publish landing pages to AdsBridge, just go into the navigation panel and select Dashboard.
From there, you can publish your landing pages, and all of your Multivariate pages.
Just click on Settings and you should see Publish to Tracker. If not, it just means you don't have a domain set up for your page; you can do that easily inside Landerbolt and publish to AdsBridge with ease.
You'll see a notification in Landerbolt to let you know your page is live.



Step 3: Tracking Lander Performance inside AdsBridge
Inside AdsBridge, you can click on Landing Pages in their side navigation panel and find your newly published lander.
You may have to scroll down a bit to find your latest upload—especially if you have a lot of landers like we do!
Once you find it, you'll be able to review stats with ease.
If you've created multivariable split tests, when you upload your landers to AdsBridge, all of your variations and URLs will be automatically published!

About Landerbolt's new MultiVariate Split Testing Page Generator
Landerbolt is a revolutionary new platform that takes all the pains out of publishing quality landing pages to tracking software and more.
Landerbolt makes it easy to import and publish landing pages without servers or coding at lightning speed.
Created multivariable split tests, A/B tests and use our time saving bulk actions, like replacing all your landing pages outgoing links.
With three different importing tools, a user-friendly interface and a drag and drop design, you can get sites live in as little as five seconds.
And, Landerbolt also hosts and organizes all of your landing pages and domains, so you can stop searching in private file systems and turbocharge your ROI!